Aircraft -
ATR 72-500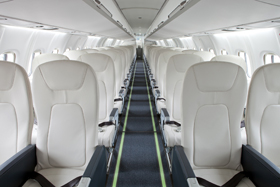 TYPE
Turboprop Regional Airliner
GENERAL INFORMATION
Aerospatiale and Aeritalia (now Alenia) established Avions de Transport Regional as a Groupement d'Intéret Economique under French law to develop a family of regional airliners. The ATR-42 was the consortium's first aircraft and was launched in October 1981.
The first of two ATR-42 prototypes flew for the first time on August 16 1984. Italian and French authorities granted certification in September 1985 and the first ATR-42 entered airline service on December 9 1985.
The initial ATR-42-300 was the standard production version of the ATR-42 family until 1996 and features greater payload range and a higher takeoff weight than the prototypes. The similar ATR-42-320 (also withdrawn in 1996) differed in having the more powerful PW-121 engines for better hot and high performance, while the ATR-42 Cargo is a quick change freight/passenger version of the 42-300.
The ATR-42-500 is the first significantly improved version of the aircraft and features a revised interior, more powerful PW-127Es for a substantially increased cruising speed (565km/h/305kt) driving six blade propellers, a 1850km (1000nm) maximum range, the EFIS cockpit, elevators and rudders of the stretched ATR-72 (described separately), plus new brakes and landing gear and strengthened wing and fuselage for higher weights. The first ATR-42-500 delivery was in October 1995.
The ATR-72 is a stretched development of the popular ATR-42 and was launched in January 1986.
The first of three ATR-72 development aircraft flew for the first time in October 1988, followed by the awarding of French and then US certification in late 1989. Entry into service was on October 27 1989 .
Significant differences between the ATR-72 and the smaller and older ATR-42 include a 4.50m (14ft 9in) fuselage stretch and reworked wings. The ATR-72's wings are new outboard of the engine nacelles and with 30% of it made up of composite materials, comprising composite spars and skin panels and a carbon fibre wing box.
Aside from the baseline ATR-72-200, two developments have been offered, the ATR-72-210, and the ATR-72-500 (previously ATR-72-210A). The ATR-72-210 is optimized for operations in hot and high conditions. It has more powerful PW-127 engines for better takeoff performance. The ATR-72-500 (renamed from ATR-72-210A on May 18, 1998) further improved hot and high model was certificated in early 1997. It features PW-127Fs driving six blade composite Hamilton Sundstrand propellers.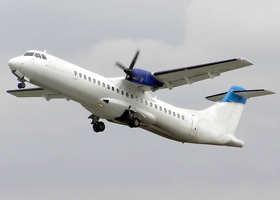 PERFORMANCE
ATR-72-200 - Max cruising speed at 15,000ft 526km/h (284kt), economical cruising speed 460km/h (248kt). Range with reserves at max optional weight 1195km (645nm), range with 66 pax 2665km (1200nm).
ATR-42-320 - Same as ATR-42-300 except max cruising speed 498km/h (269kt). ATR-42-500 - Cruising speed 563km/h (304kt). Max range 1850km (1000nm).
CAPACITY
ATR-72 has Flightcrew of two. Max seating for 74 passengers at four abreast and 76cm (30in) pitch. More typical seating for between 64 and 70 passengers, with seat pitch starting from 81cm (32in). With larger forward freight door fitted it can accommodate a payload of 7200kg (15,875lb) in 13 containers.
ATR-42 has Flightcrew of two. Maximum passenger accommodation for 50, 48 or 46 at 76cm (30in) pitch and four abreast. Typical seating arrangement for 42 at 81cm (32in) pitch.