Aircraft -
Airbus A330-200
TYPE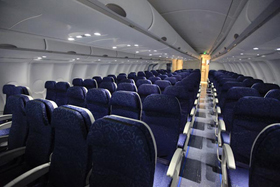 Long range widebody airliner
GENERAL INFORMATION
The A330-200 is the newest member of Airbus' widebody twinjet family and is a long range, shortened development of the standard A330, developed in part as a replacement for the A300-600R and a competitor to the 767-300ER.
The A330-200 is based on the A330-300 and shares near identical systems, airframe, flightdeck and wings, the only major difference being the fuselage length. Compared with the 300 the A330-200 is 10 frames shorter, and so has an overall length of 59.00m (193ft 7in), compared with 63.70m (209ft 0in) for the standard length aircraft. This allows the A330-200 to seat 256 passengers in a three class configuration, or alternatively
293 in two classes.
Airbus launched development of the A330-200 in November 1995, followed by the first customer order, for 13 from ILFC, placed in February 1996. First flight was on August 13 1997, with certification and first customer deliveries, to ILFC/Canada 3000, in April 1998.
Because of its decreased length the A330-200 features distended horizontal and vertical tail surfaces (to balance for the loss of moment arm with the shorter fuselage). Another important change is the addition of a centre fuel tank, which increases the A330-200's fuel capacity over the 300's, and results in the 200's 11,850km (6400nm) range.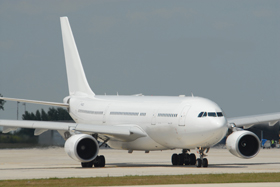 The A330-200 has sold quite strongly since its launch. Among the initial A330-200 customers are, apart from ILFC, Canada 3000, Korean Air, Austrian, Air Transat, Emirates, Swissair, Sabena, Monarch, Asiana, TAM, and Air Lanka.
PERFORMANCE
Max cruising speed 880km/h (475kt) at 33,000ft, economical cruising speed 860km/h (464kt). Range with max passengers and reserves at 230t MTOW 11,850km (6400nm), at 217t MTOW 8890km (4800nm).
CAPACITY
Flight crew of two Passenger seating arrangements for A330 - 200 is available with 220 in twin configuration and A330-300 is available with 290 seats in twin configuration in India.