Aircraft -
Boeing 777-200
TYPE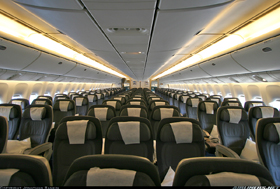 Long and ultra long range widebody airliners
GENERAL INFORMATION
Boeing's advanced widebody 777 twin incorporates more advanced technologies than any other previous Boeing airliner, and has been progressively developed into increasingly longer range developments.
The 777 was originally conceived as a stretched 767, but Boeing instead adopted an all new design. Notable 777 design features include a unique fuselage cross section, Boeing's first application of fly-by-wire, an advanced technology glass flight deck with five liquid crystal displays, comparatively large scale use of composites (10% by weight), and advanced and extremely powerful engines. The 777 was also offered with optional folding wings where the outer 6m/21ft of each would fold upwards for operations at space restricted airports.
The basic 777-200 as launched in October 1990 was offered in two versions, the basic 777-200 (initially A-Market) and the increased weight longer range 777-200IGW (Increased Gross Weight, initially B-Market). The IGW has since been redesignated 777-200ER.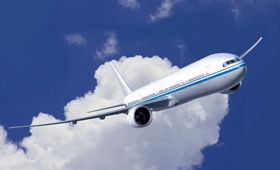 The 777-200 first flew on June 12 1994, with FAA and JAA certification awarded on April 19 1995. The FAA awarded full 180 minutes ETOPS clearance for PW4074 -200s on May 30 that year. First customer delivery was to United Airlines in May 1995. The first 777-200IGW/ER was delivered to British Airways in February 1997.
A significantly increased max takeoff weight and optional auxiliary fuel tanks in the rear cargo hold. Other changes include 2m (6.5ft) raked wingtips, new main landing gear, structural strengthening and optional overhead crew and flight attendant rest stations above the cabin. The 777-200LR was launched in 2006.
PERFORMANCE
Typical cruising speed 905km/h (490kt).
777-200 - Range 229 tonne MTOW 7000km (3780nm),
777-200ER - 263 tonne MTOW range 11,037km (5960nm)
777-200LR - Max range 16,417km (8865nm)
CAPACITY
Flight crew of two Passenger seating for 345 in three classes is available in India.