Aircraft -
Boeing 737-800 NG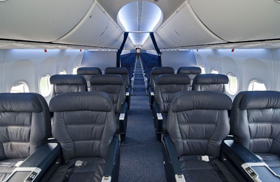 TYPE
Short to medium range airliners
GENERAL INFORMATION
Boeing's Next Generation 737-800 and 737-900 is the largest members of the strong selling 737 family. Unlike the other Next Generation 737s, the -800 and -900 introduce new fuselage lengths, extending 737 single class seating range out to 189, compared with 100 in the original 737-100.Like the -600 and -700, the -800 and -900 feature the Next Generation improvements including more efficient CFM56-7B turbofans, the new wing with greater chord, span and wing area, larger tail surfaces and the 777 style EFIS flight deck with six flat panel LCDs which can present information as on the 777 or as on the 737-300/400/500 series, the latter allowing a common pilot type rating for the two 737 families. A HUD is optional. BBJ style winglets are offered as an optional feature for the -800.Until its launch on September 5, 1994 the 737-800 was known as the 737-400X Stretch. Compared with the -400 the -800 is 3.02m (9ft 9in) longer, taking typical two class seating from 146 to 162, while range is significantly increased. First flight was on July 31 1997 first delivery was in April 1998.The largest single order for the -800 series has come from the budget carrier Ryanair. After 28 had already been ordered earlier, a firm order for 100 aircraft was made in January 2002, with an option of another 50, to be delivered over the next 8 years. Ryanair will use the aircraft in a single class configuration; to seat 189 passengers the aircraft is available in India with a capacity of 189 passengers' single configuration and also with typical two class configuration of 160 in economy and 12 Business class passengers' seats.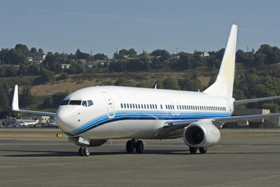 PERFORMANCE
Typical cruising speed Mach 0.785. Max certificated altitude 41,000ft.737-800 - Standard range with 162 passengers 3585km (1990nm) or 5445km (2940nm) for high gross weight version. 737-900 - Standard range with 177 passengers 3815km (2060nm), high gross weight version 5083km (2458nm).
CAPACITY
Flight crew of two 737-800 - Typical two class seating for 162 with 12 first class passengers and Max single class seating for 189. 737-900 has typical two class seating for 175, with 12 first class.