Aircraft -
Bombardier Q-400
TYPE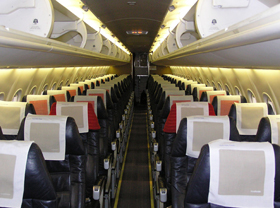 Regional Airliner (Tuboprop)
GENERAL INFORMATION
The Dash 8 was introduced at a particularly advantageous time; most airlines were in the process of adding new aircraft to their fleets as the airline industry expanded greatly in the 1980s. The older generation of regional airliners from the 1950s and 1960s were nearing retirement, leading to high sales figures. De Havilland Canada was unable to meet the demand with sufficient production.
In 1988, Boeing bought the company in a bid to improve production at DHC's Downsview Airport plants, as well as better position itself to compete for a new Air Canada order for large intercontinental airliner. Air Canada was a Crown corporation at the time, and both Boeing and Airbus were competing heavily via political channels for the contract. It was eventually won by Airbus, which received an order for 34 A320 aircraft in a highly controversial move. The allegations of bribery are today known as the Airbus affair. Following its failure in the competition, Boeing immediately put de Havilland Canada up for sale. The company was eventually purchased by Bombardier in 1992.
The market demand for short-haul airliners was so great that Aérospatiale of France paired with Italy's Alenia to form ATR. Their once separate efforts combined to compete directly with the Dash 8. The resulting ATR 42 was even more economical than the Dash 8, but de Havilland Canada responded with newer models to close the gap. Other companies competed with smaller or more tailored designs, like the Saab 340 and Embraer Brasilia, but by the time these were introduced the market was already reaching saturation.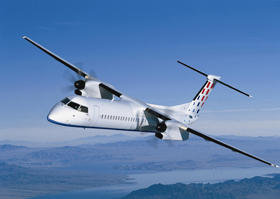 All Dash 8s delivered from the second quarter of 1996 (including all Series 400s) include the Active Noise and Vibration Suppression (ANVS) system designed to reduce cabin noise and vibration levels to nearly those of jet airliners. To emphasize their quietness, Bombardier renamed the Dash 8 models as the Q-Series turboprops (Q200, Q300 and Q400).
The Dash 8–100 is no longer in production, with the last Dash 8–102 built in 2005. Production of the Q200 and Q300 ceased in May 2009.
PERFORMANCE
According to Bombardier marketing, the aircraft breaks even with about 1/3 of its seats filled (or 1/4 with more closely spaced seats), making it particularly attractive on routes with varying passenger numbers where many seats would be empty on some flights. For example an airline calculated that the use of a 50-seat Regional Jet would break even at 45 passenger seats compared to the Q400's 35–36 seats (around 55% breakeven load factor). Most short-haul routes are less than 350 miles (500 km), so the time spent on taxiing, takeoff and landing virtually eliminates a competing jet's speed advantage. As the Q400's 360 knot (414 mph, 667 km/h) cruise speed approaches jet speeds, short-haul airlines can usually replace a regional jet with a Q400 without changing their gate-to-gate schedules.
CAPACITY
Bombardier Q400 is available in single configuration of 78 seats in India.