Aircraft -
Challenger CL 604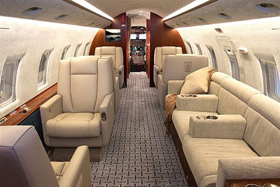 TYPE
Long range wide body corporate jets
GENERAL INFORMATION
The Challenger 601 concentrated on the original CL-600 Challenger's weight problems and replaced the troubled ALF-502 turbofans, creating a highly unbeaten full size corporate jet.
Troubles with the Avco Lycoming powered Challenger 600 led Canadair (now a part of Bombardier) to develop a vastly improved variant in the form of the General Electric CF-34 powered Challenger 601. Another important change was the addition of winglets, which are also offered as a retrofit to earlier aircraft. The 601 first flew on April 10 1982. The 600 was dropped from the model line in 1983.
Subsequent development of the Challenger led to the 601-3A. First flying in 1987, this variant introduced an EFIS glass flight deck and upgraded engines. Available from 1989, the 601-3R was an extended range model with higher weights (the range increase modifications can also be retrofitted to earlier 601-3As).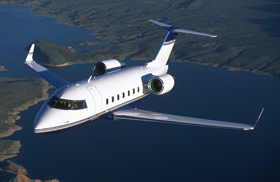 Further improvements to the basic design led to the Challenger 604. Improvements include an advanced Collins ProLine IV EFIS avionics system with color displays, higher weights, CF-34-3B turbofans and increased fuel tankage. Many other minor changes were incorporated based on Bombardier's experience with the CRJet. First flight with CF-34-3A engines was in September 1994, first flight with the CF-34-3B engines was on March 17 1995, with Transport Canada certification granted that September. First delivery was in January 1996. Challenger 601 productions completed, with 66, 601-1As, 134, 601-3As and 59, 601-3Rs delivered. Over 80, 604s sold.
PERFORMANCE
604 - Max cruising speed 882km/h (476kt), normal cruising speed 851km/h (459kt), long range cruising speed 787km/h (425kt). Certified ceiling 41,000ft. Range with max fuel, five pax and reserves 7550km (4077nm) at long range cruising speed, 6980km (3769nm) at normal cruising speed.
CAPACITY
Flight crew of two. Various seating options available depending on customer preference, maximum permissible seating for 19. Generally the aircraft is used as a Business Jet with a executive seating configuration of 09 to 12 seats.