Aircraft -
Pilatus PC-12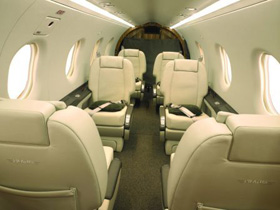 TYPE
Utility, regional airliner and corporate turboprop.
General Information
The PC-12 is a king air class and size turboprop aimed at corporate transport and regional airline operators. It is the latest in the lines of single engine PT6 powered Pilatus products.
Compared to the Super king air B-200, it's a major competitor, the PC-12's most important design feature is its use of a single PT6A-67B turbo shaft. Internally the PC-12's cabin is also longer and wider than the Super King Air B-200's, and the same height.
PC-12 is offered in standard nine seat airliner form, in a four-passenger seat/freight combi version and also as a six place corporate transport.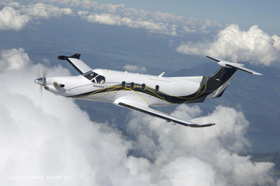 Most PC-12s built so far have been corporate transports but recent important regulatory changes in Australia, Brazil Canada and the U.S.A have cleared single engine turboprops for IFR RPT operations in those nations. This has opened the new markets for the PC-12 as regional airliner/ corporate transport replacing older King Airs and aged piston twins such as Navajo Chieftain and Cessna 400 series.
CAPACITY
Flight crew of one or two pilots. Seating for nine in main cabin in regional airliner configuration. Corporate/ Executive transport configurations seat six in main cabin.