Aircraft -
Super King Air Beech Craft B-350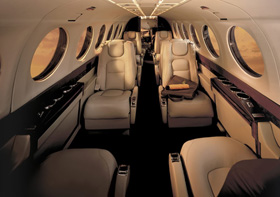 TYPE
Turboprop powered corporate and utility aircraft.
General Information
The Super King Air 350 is the further improvised Super King Air 300, the latest model in this long running and successful line of corporate and utility transports, replaced an upgraded version of the triumphant B-200 series, and in itself.
Design of an improved expansion of the successful Super King Air B200 began in August 1981, the 14-month design effort concluding in the first flight of the modernized 300 model in October the 1982. Improvements to the B200 were many, with the main change being the installation of most powerful PT6A60A turboprops in place of the 42s of the earlier model. Other changes included re profiled and more aerodynamically clean engine cowls and exhausts and extended wing leading edges, plus minor internal changes, also to mention both empty and max takeoff weights were also increased.

The 350, its major improvements being a stretch fuselage lengthened by 2ft 10in and the addition of winglets, replaced the Super King Air 300. As the latest member of the Super King Air family, it had its maiden flight in 1988, and has been in production since late 1989.
Over 220 Super King Air 350 have been delivered world over by now.
CAPACITY
Super King Air 350 has a typical passenger seating for eight in main cabin with a flight crew of Two.