Aircraft -
Cessna Citation XLS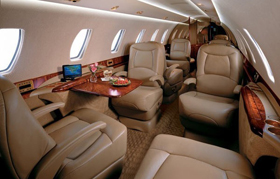 COUNTRY OF ORIGIN
United States of America
GENERAL INFORMATION
One of the latest members of Cessna's extensive line of Citation business jets, the Citation Excel combines the cabin width and standup headroom comfort of the Citation X in a new small/medium size package. The new Excel resulted from customer consultation over what they wanted in a light corporate jet plus advances in engine and airframe technology. The basis of the Excel is a shortened Citation X fuselage (the same fuselage cross section as was used in the Citation III, VI and VII), combined with a modified unswept supercritical wing based on the Citation V Ultra's, the V's cruciform tail configuration and new Pratt & Whitney Canada PW-545A series turbofans.
Cessna claims the Citation Excel's cabin is the largest of any light business jet. It features standup headroom and a dropped aisle that runs the length of the main cabin. Seated head and elbow room is greater than that in the Citation II and V, while the cabin length is similar to the Citation I, II, VI and VII.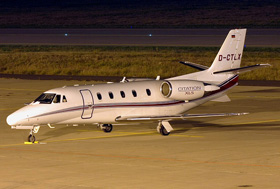 Cessna announced it was developing the Excel at the NBAA convention in October 1994. Prototype construction began in February 1995 and it flew for the first time on February 29 1996. The first production Excel rolled out in November 1997 and the type was certificated in April 1998, with first deliveries beginning mid that year at which stage over 200 were on order. Cessna delivered the 100th Excel in August 2000, at which time the company was building one every three days. Cessna says this is the fastest ramp-up of production of any Citation jet yet.
PERFORMANCE
Max cruising speed at 35,000ft 795km/h (429kt). Initial rate of climb 3790ft/min. Max certificated altitude 45,000ft. Range at economical cruising speed with two crew, four passengers and reserves 3852km (2080nm).
CAPACITY
Flight crew of two. Choice of four interior configurations with seating for up to 10 passengers in main cabin